题 目:An evidence-based compensation scheme for wildlife damages in giant panda reserves in Sichuan, China
作 者:Lan Gao(高岚), Wei Zhou*(周伟), Song Chen
期 刊: 《Small-scale Forestry》
出版时间: 2023,Volume 22,Issue 1
DOI: 10.1007/s11842-022-09519-7
摘 要
Wildlife damage drives the human-wildlife conflict that threaten the management of nature reserves, and the economic losses caused by damage should be compensated. To estimate the economic losses caused by wildlife damage, the household income composition and wildlife infringement of the farmers were investigated by surveying 36 communities in nine administrative areas around the Sichuan, China giant panda nature reserves. A total of 557 households were surveyed, with a response rate of 77.4%. Results show, about 41% of the surveyed households experienced wildlife damage. The main types of wildlife causing damage are wild boars, bears, and monkeys. Agricultural and forestry production accounted for the highest portion of the incurred wildlife damage. Most of the respondents who suffered wildlife damage did not receive compensation. Based on the data, a compensation scheme was proposed to alleviate wildlife damage in Sichuan.
关键词 :Wildlife damage;Compensation;Nature reserve
基金资助:This research was funded by National Natural Science Fund of China -Major International (Regional) Joint Research Project, grant number 71761147003, National Natural Science Fund of China, grant number 72003069 and Innovation Project of Department of Education of Guangdong Province, China under Grant 2020WTSCX008.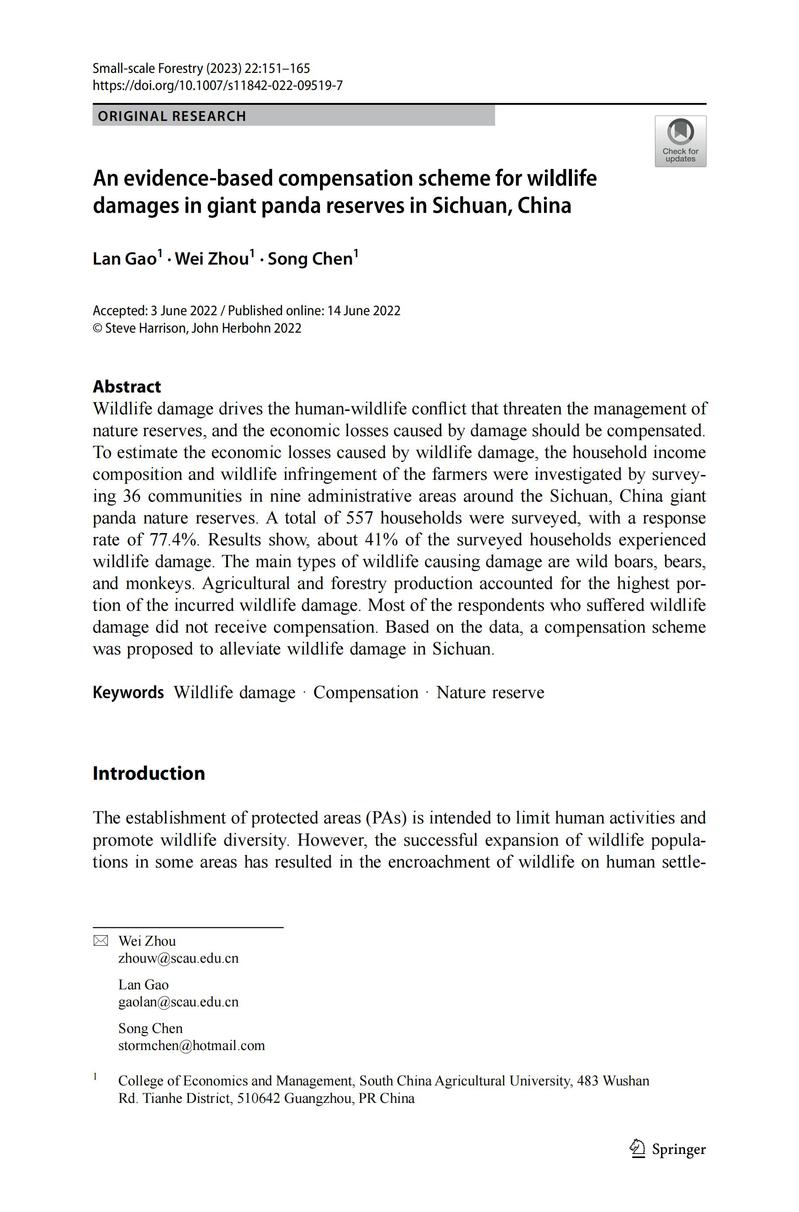 责任编辑:董晓玲
审 定:黄 松