The Dean of CEM Prof. Wan Junyi made a speech in the 2017 Graduation Ceremony of CEM

Time: 2017-06-27 Source: scaucem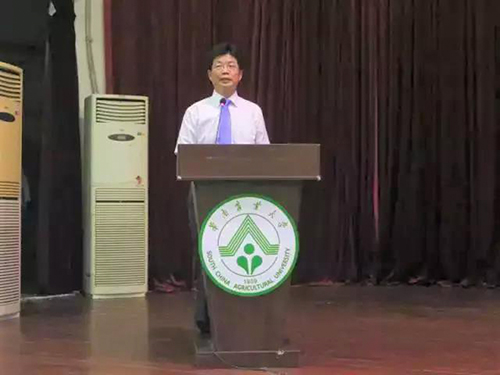 In the afternoon of June 19, 2017 College of Economics and Management Graduation and Degree Awarding Ceremony was held in the Huashan Student Activity Center. In the ceremony, our dean Prof. Wan Junyi made an impressive speech to motivate graduates to continue to forging ahead with original aspiration.
Our dean Prof. Wan used "fingers are too wide, time is too thin" to express how time flies, and he said students had many incredible memories in these four years in CEM. Later Prof. Wan shared some suggestions with students for their graduation as following:
Firstly, keep confidence, which does not mean being confident in front of camera when you take photos, but you need to have confidence to achieve your career success and be confident about your strength. Secondly, keep peace of mind, which means that you should not pay too much attention to short-term wins and losses, but keep indifferent attitude towards frame and wealth to keep the inner peace of seeking origins of life, so that you must achieve your career success in the future. In addition, keep the sense of responsibilities, which means that you need to be responsible for your words and actions, also you need to love your life and be responsible for your life as well. Lastly, keep your pursuit, which means that you do not have to set up "a hundred billion small goals", but you need to follow your heart and "stand high and aim far".
These four suggestions expressed our dean Prof. Wan's sincere wishes to our CEM students, he hoped all graduates can keep confidence, peace of mind, sense of responsibilities and personal pursuit, continue to forge ahead, and achieve success!